Found this in Mugsy's Archives.
It was written on the back of an ATM receipt.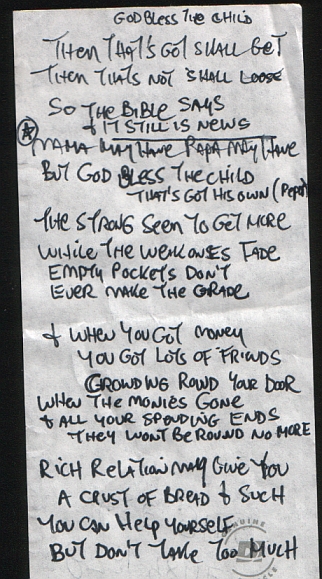 This is "God Bless The Child"
from the "Blood, Sweat & Tears" album.
Originally:Arthur Herzog (music), Billie Holliday (lyrics) song. Written in 1929
According to Scott Gordon
" That's how he would get words to a song he wanted to do. He would go to
a library and find the lyrics, then write them on any piece of paper
that he had. He would then use his "filing system" (I'll leave it to
Pat to comment on that) to store it until he needed it."


This work is licensed under a Creative Commons Attribution-NonCommercial-NoDerivs 2.5 License.
this site is hosted and mantained by Video Kraftwerks, Inc.